Slowly working through the engine compartment. We're going to pressure wash the lower portion while we have access, repair the battery tray and spray in rubber paint. The rest will be compound polished or repainted where needed. I'll try detailing parts of the engine where I can, it won't be pristine (that would require insanity) but it will be much cleaner. A wire brush and rubber cleaner will probably as far as I go with most parts, though I'd like to sand blast and paint what I can. It probably looks worse than it is due to the sand blasting material sticking to the oil build up on the engine.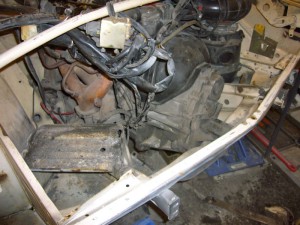 We sand blasted and painted the valve cover. Troll Motors did a major valve job on it mid last year, not just adjusting the valves, but replacing shot buckets and shims as well. The old cork gasket was in good shape, but I went ahead and replaced it with a new one and sealant.
The radiator had its mounting brackets repaired and it was pressure tested and painted all at Greenwood Radiator. I replaced the fan switch with a new 82C unit and also replaced the thermostat with an 88C unit as well. The car used to run a little hot and the previous owner had shorted the fan switch so it was always on. I'm hoping that by having the lower threshold on the fan switch and thermostat that it will help with overheating.