I was sorting through the parts boxes and I really have a lot of detail work to get done as re-assembly is going to go pretty quick.
The original lower console from about 1972 on used a paper strip of simulated wood. Unfortunately this paper peels, fades and shows the outlines of some of the optional openings in the lower console.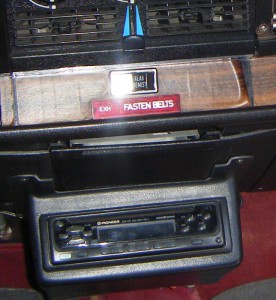 There are some really great wood laminates available today and I found a roll of 1/32″ (or so) thick REAL walnut which is thick enough to be sanded and finished, but thin
enough that it can be trimmed with a sharp knife or crafting small saw.
I've also been going through all the switches and cleaning out the old sticky brown great with fresh lithium grease. That old grease is actually a big problem, especially for the most used switches like the fan and light switch. They get hard to operate and can end up breaking. In fact, this is what happened to the fan switch. The contacts needed to be burnished and it had to be sealed with JB weld as the clips had broken.
more to come from this later …